Grace
Knowing the Holy Spirit and God's Love
More

than bible verses

or a bible study; A focus on effective prayer.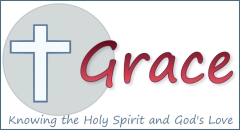 Do we really abide in Jesus Christ? John 15:5 (ESV)
This 14 page booklet on "Grace" reveals the growth necessary to accomplish things of God's agenda which yield eternal results.
Also, consider the "Real Prayer" booklet when shopping for an effective outreach tool. It is easy to hand out, mail with a get-well card, e-mail, or use as a social media link. When the average parishioner lacks the needed words, it is a great alternative. The back cover extends an invitation to church.
In 2023 the author of these booklets is open to providing a limited number of Sunday morning messages which greatly supplement these booklets on parishioner discipleship. (Limited to Van Wert, Ohio or adjoining counties.)

The first message greatly enhances the first four pages of the Grace booklet.

The second message is a personal testimony on growth; from self-reliance to coming to realize that first talent. Lesser skilled parishioners can relate to "not having the words" at the time they are needed and may find outreach to anxiety-free if given the tools to compensate for having limited talent.

Further inquiries, Terry Dietsch, ph: 419-408-4002 or

inquiry@realprayer.org
About Real

Pray

er Inc:
We are three retirees from either public teaching or public safety here in Van Wert, Ohio. Each of us are from a separate church denomination. This Public Charity was formed to change hearts; both locally and internationally.
How are these book

lets

receiv

e

d?
Last year, requests going beyond our home page to request an online or .pdf booklet averaged

500 requests each day

. Editions included Spanish, Portuguese, and English. Ten percent of viewers returned from prior days.
An Inmate Booklet Ministry began in the Van Wert County jail. A year later to the Allen County Indiana Jail. As of August 2022, our .pdf booklets are in the digital library of a company which services 250,000 library tablets for inmates of prisons and jails across the United States, Canada, and beyond.
Those who are moved to help financially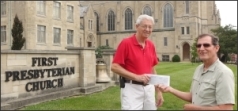 :
Our purchased ads respond at the same moment a person is submitting an internet inquiry such as "how to pray." Our website: realprayer.org
Last year 99% of donations go to this ad budget. Expendatures are near $50. each day. (annual report

)
Cost efficiency averages 10 cents per booklet request. 3-minute video

.
This is made possible by board members and others donating a 30-50 hour weekly toward: writing, editing, language translation, web hosting, and public speaking.

Personal donations of under $350 annually or church donations of any amount will aid in maintaining IRS requirements of being a public charity.
Our donate icon from PayPal is at the top of this page.
Checks may be addressed to:
Real Prayer Inc

10409 D McConahay Rd

Van Wert, Ohio 45891

(419) 408-4002 or inquiry@realprayer.org